Chinese Soapstone Hand-Carved 12 Zodiac Animal Statue Seal Stamp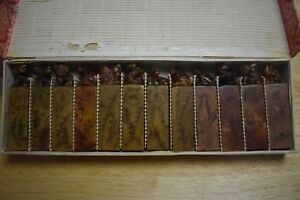 ---
Unique set of hand carved, zodiac seal stamps. Each zodiac animal is on top of 2" seals lightly carved with different landscapes. Stamps are cool to the touch and rectangle in shape.
Stamps are in decent condition, as shown in the pictures. Several have minor nicks & scratches and the Ox stamp has a large hip on it's nose.
Stamps come in original box that is definitely worn and shows signs of aging, but fits each stamp perfectly.
Age is unknown